Rehabilitation Continues on Southbound U.S. 1 Viaduct
March 26, 2021 – Rehabilitation of the southbound left lane of the U.S. 1/Roosevelt Expressway viaduct over SEPTA and the Nicetown neighborhood of Philadelphia is progressing with new deck concrete being placed this spring.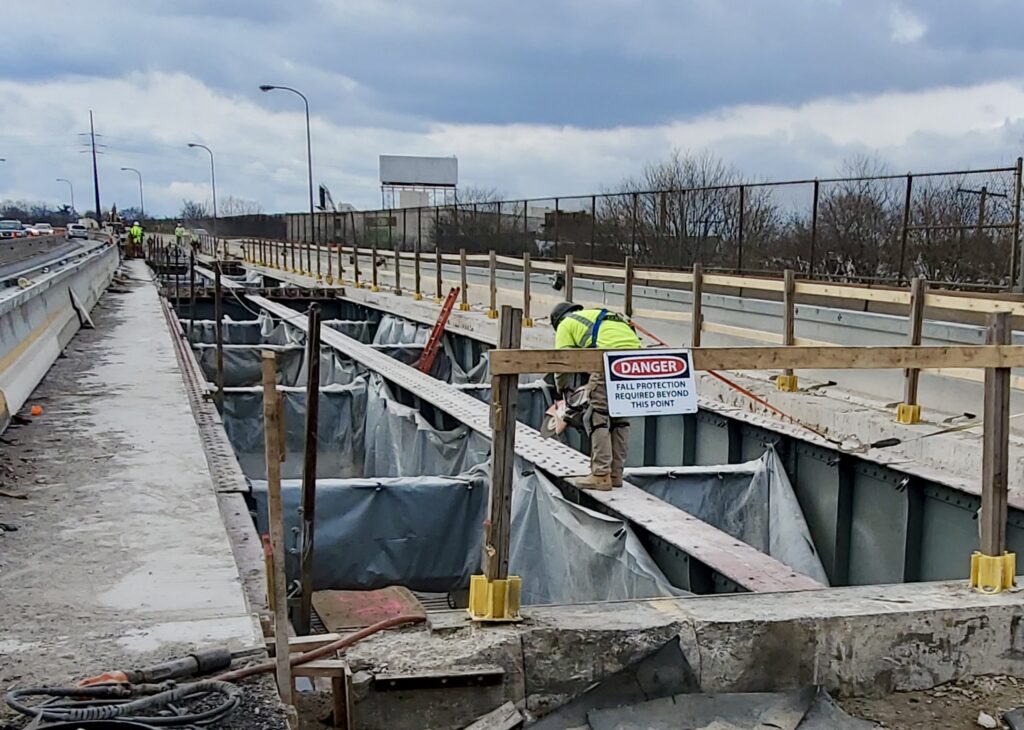 With southbound traffic split into two lanes through the work area, crews have removed the existing concrete deck and have been working to refurbish, repair, and repaint the viaduct's structural components (see above). As the structural steel is refurbished, paving crews are following, placing the new concrete deck in sections.
The southbound left lane is scheduled to be completed this summer. Work then shifts to the southbound right lane from June 2021 to August 2022 for the next stage of deck repair and replacement.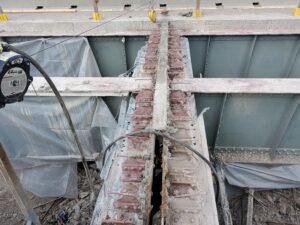 (Right: A deteriorated expansion dam, one of many being replaced.)
As top-side work progresses, painters on the underside of the viaduct are placing a primer coat on the refurbished steel members. A finish coating of paint will be applied to the entire underside of the structure during the final stage of the project.
Southbound motorists may encounter periodic nighttime lane closures or traffic slowdowns Mondays through Fridays during construction this spring.
At ground level, dozens of concrete columns that support the half-mile long structure that carries traffic over Germantown Avenue, Wayne Avenue, and other streets in the Nicetown neighborhood have been refurbished.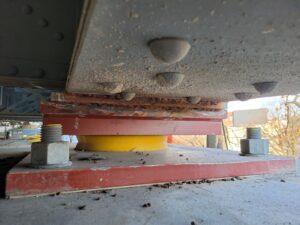 (Left: Photo shows a new bearing plate installed between a support column and deck beam.)
Work also has begun on replacing 24 existing sign structures and adding 6 additional signs at the approaches to the project.
In addition to the viaduct, painting of the structural steel on the Fox Street bridge over the expressway south of the viaduct has finished.
The Cayuga Street on-ramp to southbound U.S. 1/Roosevelt Expressway remains closed. It was closed and detoured earlier in 2019 to allow two lanes of southbound traffic to move through the work area uninterrupted by the merge of on-ramp traffic during repairs to the viaduct.
Current construction is Stage 2 of six stages of repairs being completed under a $90 million contract to rehabilitate the 2,587-foot-long viaduct. The entire project is scheduled to be completed in spring 2024